"Really, many of you can't afford to wait," she said. "I know we've been told to be patient, but there's some real need out there." - Allison Coleman, CEO of Capital Link (www.dotnews.com).
On Wednesday, May 1st, 2019 a State House hearing took place in Massachusetts highlighting the desperate financial need to the over 40 Federally Qualified Health Centers (FQHCs) and Community Health Centers (CHCs) in the state.
"Some Massachusetts community health centers are 'essentially one snowstorm away from having challenges making payroll,' an expert on the industry's finances said during a State House hearing last Wednesday" (www.dotnews.com).
While Medicaid Expansion, under the Affordable Care Act, was passed in Massachusetts in July of 2013 (www.healthinsurance.org), federal and state funding for FQHCs and CHCs falls well below the national average of 3.3%. Massachusetts MassHealth comes in at a staggering negative 0.9% (www.dotnews.com).
While 1 in 5 Americans are supported and cared for by Medicaid, the timing has never been more crucial to invest in a coverage management platform that will help your health system turn uninsured visits into coverage and reimbursable opportunities!
So where can we make up the difference? While the urgency of additional funding was voiced at the State Senate hearing, there is an answer that can be found within your health system, and it starts with your Enrollment Department! Converting uninsured, or underinsured patients, to covered members, is the simple difference of creating expense or creating revenue for your health system.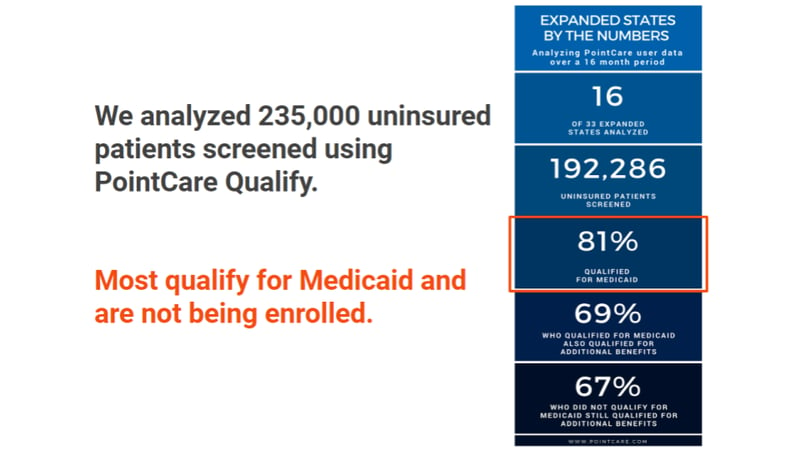 Through helping to qualify and manage hundreds of health systems like yours, PointCare has been able to determine that 5%, roughly 4 million, Medicaid members fall out of coverage every month. And with an annual patient value of $500 - $750, it's never been easier to qualify, enroll, and manage your health centers Medicaid population.

"We've got health centers that basically struggle because of cash flow, we've got health centers that would like to expand but they're reluctant to expand because they don't want to put themselves in a deficit position," Hunt said. "We have a need for further expansion."
- James Hunt, president and CEO of the health centers league (www.dotnews.com).
So how do you gain access to this data to start generating the untapped revenue in your Health System to help build the 4.1% revenue gap? Empower and equip your Enrollment Department, by focusing on the following areas:
Reactive Qualifying – How to handle qualifying of a member without a scheduled visit
Proactive Qualifying – Qualifying an uninsured member in advance of their visit
Application & Approval Management – Necessities designed to maximize your data integrity
Anchoring Members – Let's get those members anchored before they are auto-assigned 30 days after approval.
Member Retention – You've already done all the work to get a member covered. Now let's keep them covered!
Member Churn – Yes, sometimes members still fall out of coverage. So follow our best practices to re-engage and re-enroll them. It's simple with the right tools and process.
If you want to learn more about how you can optimize your clinics Enrollment Department to start converting your insured patients to coverage members, message us today!