We started organizing the US Public Health Coverage system in 2004 as a non-profit. Over the years we learned the system is extremely complicated and difficult to navigate for the population it intends to serve. So we set out to fix this and keep it simple.
Fundamentally, the Medicaid population (75 million individuals) has a very difficult time navigating public coverage and there is little to no incentive for anyone to help them in the private sector.
While we had success with millions of people screening themselves and learning of their coverage options through our site during the 2000s, we wanted to do more. This is why we created PointCare in 2012 with the goal to give local health systems the ability to manage their Medicaid members in a simplified way.
Enter FQHCs.
We didn't know if healthcare organizations wanted to manage coverage. We started marketing to healthcare organizations in 2012 when ChapCare in Pasadena decided to contact us and learn more. Two weeks later they became our first FQHC customer! Sergio Bautista, the CFO at the time, became a trailblazer for educating community patients on all coverage options using PointCare. They even landed on the evening news for their efforts using PointCare!
We immediately identified a gap between educating patients and managing the enrollment cycle. Simply put, clinics had no way of managing the enrollment cycle end-to-end. Listening to ChapCare and others drove us to continue our development efforts, adding in Member Coverage Profiles and Dashboards shortly thereafter, followed by user work queues meant to provide a better user experience for enrollment managers while organizing productivity for management.
We grew quickly, adding FQHC customers in over half of the US States. We continued to learn and listen to our customers, developing even more solutions. By 2015, our data indicated patients were enrolling into Medicaid more frequently than once per year. This raised red flags with our data team and we asked ourselves the question.
Why are patients having to re-enroll so frequently?
True to our roots, we started asking our FQHC customers how we can help them fix this issue of patients showing up for care believing they are covered only to find out their Medicaid coverage lapsed. They shared their stories and problems and we continued to develop for them. Here's what we learned:
The problem: FQHCs have a member retention issue because patients continuously drop from coverage and Medicaid doesn't communicate this to the FQHCs.
The result: Patients are uncovered or not anchored to an FQHC, resulting in a poor patient experience and lost revenues for the FQHC.
The solution: Develop PointCare Enrollment Intelligence™ which allows FQHCs to not only identify the exact opportunity to get uninsured visits funded, but also manage Medicaid enrollments, redeterminations and lapsed coverage.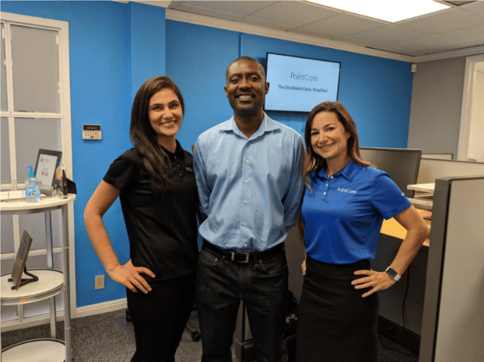 We set out to develop this for FQHCs. In 2016 we deployed a beta version of our Enrollment Intelligence solution, and called it Total Coverage Management. Working with our FQHC customers, we worked hard to identify best practices for the industry.
After analyzing the data we discovered 3.8 million Medicaid patients drop coverage every single month! No wonder they keep coming in uninsured. This is why the vision for our platform is to be the coverage representative for every public coverage patient.
Each day we are building solutions to strengthen our platform and solve problems for FQHCs. Our Customer Success team gets stronger and more knowledgeable with each conversation. FQHCs are contacting PointCare for process improvement and advice on Enrollment Cycle even if they aren't customers. We are finding ourselves evolving from a strict software company to a software and consultative company. Having implemented PointCare's Simplified Enrollment Cycle in over 600 facilities nationwide, we've come to learn a thing or two about this process.
We wouldn't be here without the engagement and commitment from our FQHC customers. On behalf of everyone at PointCare and more importantly the patients you serve, Thank You!!
PointCare's platform helps with free enrollment cycle assessments for those who qualify. Learn more at www.pointcare.com.